Wearing a comfortable and supportive pair of shoes when you like to do a bit of walking is quite important. When you get older wearing the correct, supportive and comfortable footwear is absolutely vital for any situation or occasion. Not wearing the appropriate footwear for walking can cause much damage to your feet, knees, and ankles and even worsen lower back pain. When you become older, you need even more support and stability from your walking shoes. Some older people already suffer from a foot condition, knee, ankle or back pain and therefore need orthotic footwear to reduce the symptoms caused by these conditions.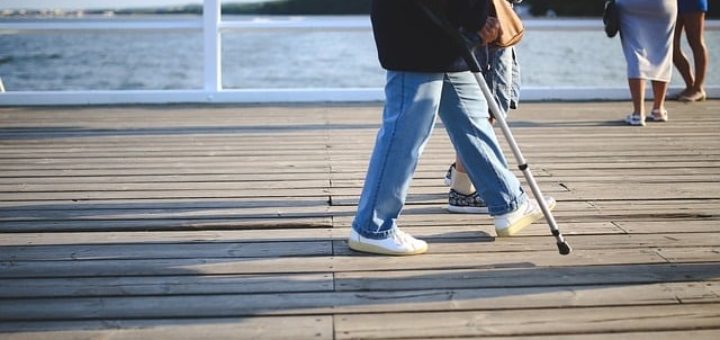 Comparison Table of Best Walking Shoes for Seniors
Advantages of Walking and Excercize for the Elderly
It is advised to do some moderate exercising when you get older, walking is a great way to stay fit and strong and also an excellent form of recreation for the elderly.
Here are some great advantages of walking and exercising if you are older;
It improves your mental alertness and health.
It reduces the risk of disease and other health conditions.
It will keep your weight stable.
It strengthens your muscles making you less susceptible to serious damage when you are injured, and disease.
You will feel fit, energetic and healthy.
If you decide that you are going to be walking as a form of exercise or recreation, it is vital that you choose an appropriate pair of footwear for your foot type and condition that is meant for walking.
What to Look For in A Good Pair of Walking Shoes
Motion Control
Motion control is the amount of stability a shoe provides when you are walking. A stable shoe will help to support your ankle and arches when you are walking and adjust the heel motion to reduce stress and impact on the heels. Cushioned motion control is essential especially for older men and women who overpronate.
Breathable and Lightweight Material
The material that the shoe is made from is very important, as with any walking shoe you would expect it to be breathable and lightweight. When you have a foot condition or painful bunions, a shoe that is made from soft and flexible materials that do not put added pressure on the affected areas is also very important.
Cushioning and Support
Good cushioning and support is also a must in any walking shoe, and in a walking shoe for the elderly woman, even more so. Make sure that your walking shoe provides adequate cushioning that absorbs shock, and reduce stress on the feet, as well as providing a comfortable fit. Good support from the outsole and midsole will ensure that there is less strain on your feet and lower limbs and that you are more comfortable.
Reviews on the Top Walking Shoes for Elderly People
After extensive research we have come across some exceptional choices in Walking shoes for the elderly woman, you cannot go wrong with any one of these picks;
1
Walking Shoe for Elderly People
The Asics Gel Tech Neo 4 is one of the highest rated walking shoes today.

Reflective design with biomorphic fit uppers that are gentle on your feet.

The medial side bunion window creates and enhanced fit to accommodate painful foot conditions such as bunions.

Designed to deliver a smooth heel to toe transition with every step that you take.

The GEL cushioning helps to absorb shock and gives soft cushioned comfort.

The Ortholite footbed provides cushioning and helps to reduce moisture and odor.

Full-length Solyte and 45 lasting material for a soft and stable platform feel with great comfort.

The AHAR rubber sole is abrasion resistant and gives reliable traction.

---
2
Wash and Wear Walking Shoes for the Elderly
The Propet 3851 is a slip on walking shoe that is comfortable and supportive as well as easy to clean for everyday use.

Available in extra wide sizes that can accommodate any foot condition.

The quilted leather uppers are supple for a soft and flexible fit and easy to wash.

This shoe is lightweight, breathable and extremely durable.

The rubber outsole ensures secure traction on all walking surfaces.

The EVA midsole absorbs shock and reduces pressure on the feet and lower limbs.

The external and internal heel counters give great support.

A rocker profile that helps to encourage natural walking motion.

The flex grooves will give you enhanced mobility.

The collar is padded and made from stretchable Nylon for a better fit.

A removable cushioned orthotic for improved comfort and support.

Durable and firm arch support.

The Propet W3851 has also been rated as one of the Best Shoes for Nurses.

Available in six different color designs.

---
3
Walking and Casual Shoes for Elderly
The Skechers is a comfortable slip on shoe that is not only a great walking shoe but also a fashionable and stylish shoe for everyday casual wear.

Available in Soft Suede or leather.

A synthetic sole that is supportive and offers good grip on many floor surfaces.

A 0.75-inch heel for improved stability and shock absorption.

A moccasin-stitched seam for a soft and comfortable fit.

The cushioned memory foam footbed will give your hours of comfort.

Available in a variety of color designs.

---
4
The Propet is a sandal made for walking in the warm summer weather. This sandal is available in three different widths from narrow to wide to accommodate any foot type and shape.

Manufactured from full grain leather with three adjustable straps for a customized fit.

A soft and breathable leather lining.

A cushioned antimicrobial foot bed to keep your feet healthy and dry.

The polyurethane sole gives energizing shock absorption with every step that you take.

Available in a range of colorful designs.

---
5
Walking Sneakers for Old People
The uppers are made from breathable and lightweight mesh for a lightweight and comfortable fit.

The velcro straps give you an adjustable fit and makes this shoe easy to put on and take off.

The outsole offers good support and is durable.

This shoe is lightweight, breathable and soft on your feet.

Easy to clean and a sporty and casual appearance

---
6
Comfortable Walking Shoes for Seniors
Manufactured from waterproof synthetic leather materials.

The podiatrist-designed insole is removable and antibacterial.

The mesh liner and sock liner offers added breathability and comfort.

The Orthaheel Technology gives you contoured arch support and aids in realigning your stride.

The EVA midsole offers added comfort and cushioning.

A flexible and durable rubber outsole that offers exceptional grip.

Alleviates and prevents knee pain as well as ankle pain and is one of the Best Shoes for Lower Back Pain.

Available in six different color variations.

---
7
Old People Shoes for Long Walks
The Propet 2034 is an exceptional walking shoe that has a wider fit and some superb comfort and support features making it the ideal walking shoe for the elderly.

Perforated full grain leather uppers to keep your feet dry and well ventilated.

The brushed Nylon lining ensures more comfort.

An easy lacing system for fast efficient lacing.

A comfortable and supportive padded collar and tongue.

The EVA midsole ensures the best arch support.

A rubber sole to prevent slips and falls and provide good traction.

A very supportive and comfortable walking shoe that will make one of the Best Shoes for Walking All Day.

---
8
You can trust these shoes for all day comfort and support even if you have a foot condition or very sensitive feet. A perfect shoe for older people who still enjoy walking.

The padded tongue and collar offer a cushioned fit.

Synthetic uppers with durable leather overlays.

A chafing preventative lining.

An anatomical Precise return cushioned insole lining that reduces shock on impact.

The compression molded EVA midsole offer exceptional comfort and support.

A slip-resistant rubber outsole to prevent falling.

Simply the Best Shoe for Walking All Day.

---
9
Athletic Shoes for Seniors
The Flexible ForeFoot stretch zone and full grain leather uppers offer a comfortable and customized fit for any foot shape.

A compression molded EVA midsole will allow for better support and cushioning.

The added Strobel board and rearfoot and forefoot HRC cushioning ensures that every foot strike is met with responsive cushioning.

An XXTM 900 outsole that features Walk Trac technology will ensure that you do not slip and fall.

Heel ProGrid and Respon Tek technology gives better shock absorbency and returns energy to the feet.

This shoe is available in three great colors.

Not just a fantastic walking shoe for the older woman but also the Best Shoe for Walking All Day.

---
From the list mentioned above, you are sure to find a shoe that is a perfect fit with all the features that you require. Just because time is taking its toll on you does not mean it must slow you down, with the right equipment and footwear you can enjoy life to the fullest!
---
Please rate this article:
---
---