Foldable Flat shoes are popular for so many reasons. In general, they are just very comfortable and flexible, and available in so many colors and styles to choose from.
Foldable flats can be the perfect traveling shoe because of their small foldable compact size and easy portability. Some models even come with their own tiny storage pouch or pocket.
Short on time? Here's a summary of the Best Shoes We Found:
---
Why a Foldable Ballet Flat
Whether it is for the convenience, color and style options or portability, foldable flat shoes can come in handy in any way you choose.
Here are a few superb reasons why every woman should own one or more pairs of foldable flat shoes;
Different Options and Choices – Foldable flat shoes are available in a vast array of colors, shapes, patterns, and material types. I have seen metallic colors in any color of the rainbow, pastel colors, bold and bright colors, neutral blacks, browns and tans, silvers, golds, honestly anything you can think of. You can choose between solid colors or even patterns and other decorative details such as rhinestones, glitter, beads and bow details. Foldable flats likewise come in a variety of materials, mostly leather or suede, as well as some soft and flexible fabrics. You can also choose between a round or pointy toe style.

Wedding or Occasions – there is a foldable flat shoe for every occasion. Ballet flats and pumps are a very versatile shoe that can be worn casually, to work, out to town, and even for weddings. A foldable pair of flats is ideal to keep in your purse when you need to change shoes at a wedding or for a formal event, or for traveling, or even when you need a pair of casual shoes easily on hand.

Travelling – Traveling on ships and airplanes are the ideal occasions for having your foldable flats by hand. Even for taking short trips or a weekend away a pair of foldable flats are stylish, suitable for any occasion, comfortable and will take up the least space in your luggage.

Easy Storage – Foldable flats are so easy and compact to store when you have little space available, they are the ideal shoes for students or individuals in small living spaces. They also fit compactly in your handbag or purse.

Affordable – last and most importantly these flats come in so many different styles and colors, and are so budget-friendly that you can invest in many different pairs and look super fashionable and feminine every day and for every occasion without breaking the bank, or having a closet full of shoes.

---
Types and Options in Foldable Flats for Women
Ballet Flats or Pumps – There are different varieties of flats when it comes to foldable flat shoes, the main choices being a ballet flat or general pump style with a rounded toe or a pointy toe.

Heeled – Some foldable flats may have a slight heel and platform or be completely flat.

Pointed Toe – The pointed toe foldable flat looks so much more sophisticated and elegant for more formal occasions, whereas the rounded toe is more casual and comfortable.

Rhinestone and Decorative – besides different colors, patterns and prints some foldable flats come with decorative Rhinestones, beads, glitters, bows, buckles and many other colorful and charming decorations and adornments.

Leather or Suede – Your main material choices and also your best options are leather or suede for the uppers and rubber for the soles, as these are the most flexible and durable, although there are many other options to choose from.

Color Options – Color variations are endless, from neons to dark bright, bold, metallic, rustic, neutral, black, brown, elegant whites and pastel colors, different prints and even two or three-toned colorvariations.


Comfort – Foldable ballet flats are flexible and soft and some even have a slightly cushioned insole and supportive heel.

---
Features of a Good Foldable Flat Shoe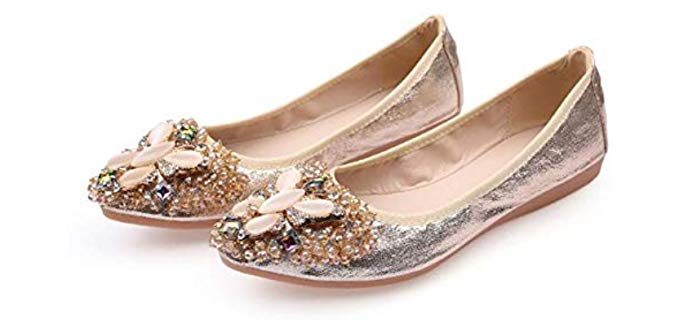 Comfort – Cushioned insole and a moisture wicking smooth lining.

Flexibility – Flexible leather or synthetic uppers with a flexible outsole and sole.

Durability – Double stitching

Outsole – A durable and flexible sole that can be made from TPR or rubber.

Color Variations – Many colors and pattersn to choose from.

Upper Materials – Leather, synethtiec, suede or fabric.

Toe Shape – A round or pointed toe choice.

Carry Pouch – Comes with a handy carry pouch to hold the folded flat shoe in, in some case matching the colors and patterns of the shoe.

---
Reviews: The Best Foldable Flat Shoes Available
Here are some top models and brands in flat shoes that you can flex and fold easily;
---
Top Pick
NO. 1
As you will see, Silky toes are one of the top brands when it comes to foldable flat shoes in a more casual style, with an enormous range of color options for you to choose from.
Top Features:

Synthetic leather uppers and a durable rubber sole.

Comes in neon, bright, dark, neutral and metallic color options to choose from.

A smooth and casual style that can be worn for any occasion even to a wedding or formal event.

They are highly flexible and can be rolled or folded up very compact.

With the shoes, you will also get a small matching carry pouch with handles for easy carrying.

---
Runner Up
NO. 2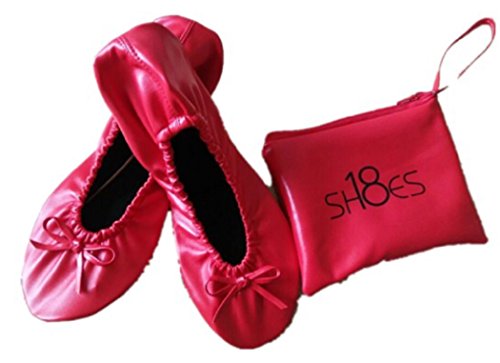 From Shoes8Teen we have these gorgeous foldable and portable ballet flats complete with their matching bag.
Top Features:

Made from natural and breathable cotton that is double stitched and has an elasticized lining which will expand and contract for maximum comfort.

Ther is a soft and non-irritating microfiber interior lining.

The durable outsole is flexible and comfortable.

Comes with a carry pouch with a zip closure for easy storage and portability.

---
NO. 3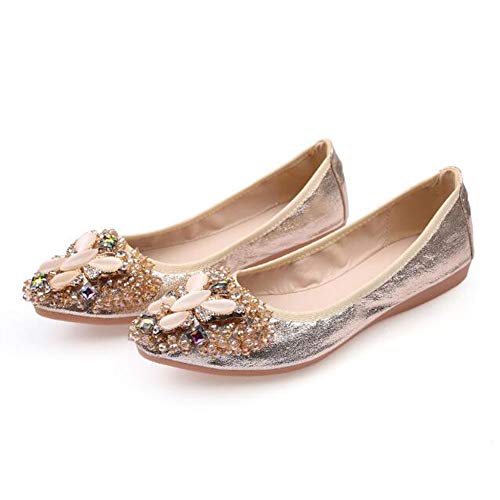 These Ottamise Wedding Flats are designed and decorated specifically for weddings and formal events and are available in lovely elegant neutral and slight color variations.
Top Features:

Neutral and light color options with different variations in decorative diamond and rhinestone embellishments as well as glitter and pointed toe options.

A durable and flexible synthetic sole with an anti-skid rubber outsole with extra flexible TPR.

Features a classic ballet flat design with a soft and cushioned insole.

Very lightweight and flexible, and can fold up very small to easily fit in a handbag or purse.

Suitable for more formal r professional occasions where you need a bit of style and class.

The decorative elements are hand-stitched and extremely durable, so they will not come loose easily.

---
NO. 4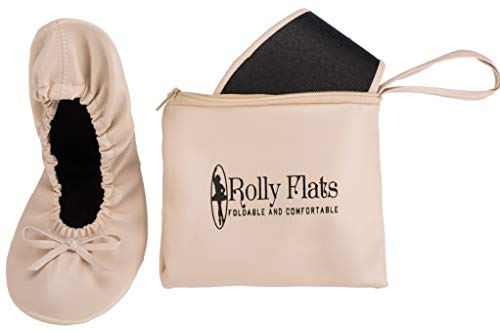 Rolly flats are portable, comfortable, and flexible with the classic ballet flat style and elegance.
Top Features:

Available in a few neutral color options as well as wider widths and larger size options.

Features decorative bow detailing on each shoe.

A premium quality cushioned footbed and soft lining.

The rubber outsole is flexible and highly durable.

Comes with a matching carry pouch for easy storage.

---
NO. 5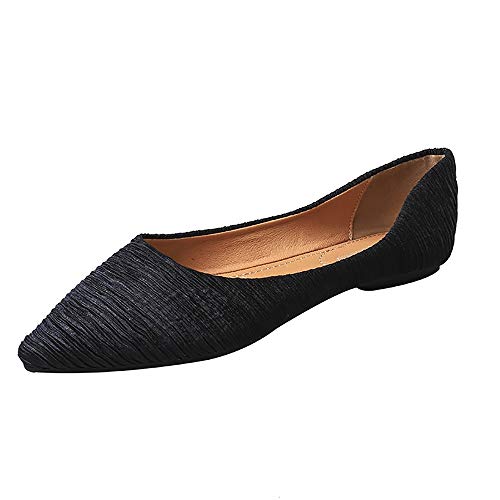 From Meeshine we have the Foldable Pointed Toe Ballet flats with Rhinestone details and comfortable slip-on design.
Top Features:

This flat has a slight heel for sophistication and stability along with a classic pointed toe.

Decorated with rhinestones or bows, available in a few color options.

There is an elastic easy on and off the collar, and a cushioned footbed for comfort.

A TPR durable rubber outsole that is highly flexible.Overall a very lightweight and flexible design that folds up quite compact.

---
NO. 6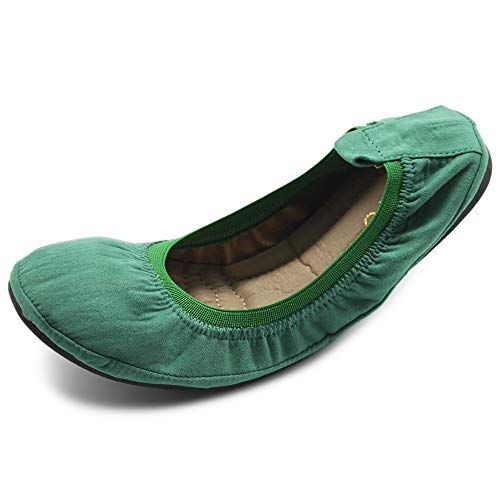 The Ollio Faux Suede Comfort Ballet flat is a more sleek and casual feel to it and is likewise available in plenty of color variations to choose from. These are so comfortable and affordable that I would get a few pairs to match every outfit.
Top Features:

Synthetic Faux leather uppers with a soft suede feel and flexible fit.

A durable synthetic sole and round comfortable toe.

Easy on and off with the elasticized collar.

Many color variations are available to choose from.

---
Index Table: Top Rated Foldable Flat Shoes
---
Please rate this article:
---
---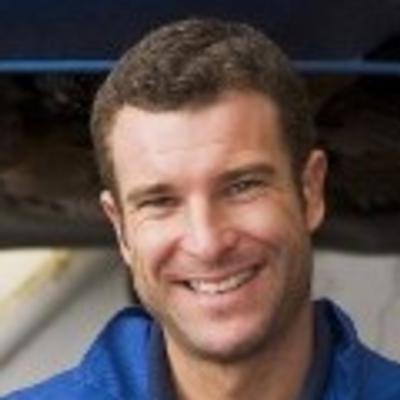 I am a Long-distance hiker, a writer and an editor whose favorite topics include backpacking, trail running, boots and various footwear.
Last update on 2020-06-24 / Affiliate links / Images from Amazon Product Advertising API