Sprinting is a sport where the fraction of a second can be the difference between a first or a third place. Therefore the runners need all the help they can get from their running gear, which most importantly includes their shoes, to be able to perform at top speeds on the track.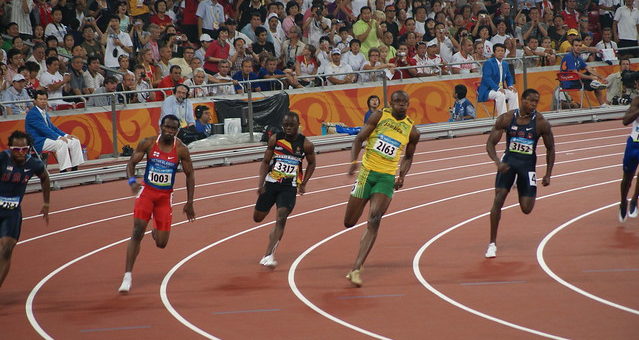 ---
Sprinting and Track Running
Sprinting is basically running over a short distance in the shortest limit of time, also called dashes. Sprinting is done on either a track or field and is one of the oldest running competitions, being recorded at the Ancient Olympic Games.
Professional Sprinting is done by crouching at a strat bloke, right before driving forward and gradually moving into an upright position, as the race progresses. Body alignment is key and pushing off requires maximum force. The athlete remains on the same lane throughout the event and is focused upon maximum acceleration and speed for the entire durance of the race.
With this in mind, there is a clearer view as to what is required from an appropriate shoe and gear fro Sprinting.
Endurance and acceleration at top speeds are the two main requirements for this sport, so you do not want anything holding you back because of pain, discomfort or weight. Then you also need adequate protection against potential injury at those speeds as well as high levels of shock absorbency.
Track Spike shoes are the best option for sprinting, there are different types of spikes from steel, to rubber depending if it is an outdoor or indoor track.
---
Tips for Finding the Best Spikes for Sprinting
Finding the right pair of track spike shoes for your specific requirements will depend on the field, your running style as well as your level, being a beginner or professional.
You may likewise need different types of shoes for different tracks and events. In the end, there is no magic Track Running or sprinting shoe, the ideal is to look for something with a stiff and lightweight design, and spikes that offer you the best advantage for every group of events.
While a Sprinting spike may have a stiff plate underneath the entire foot to promote running on the toes and better forward motion, they will not work for longer distances as they can not endure. However, a mid or long distance sprinting spike is designed with a thinner heel and less cushioning for use over longer races.
Besides this here are some key characteristics to look for in a good Sprinting Spike Shoe;
Event Specific Shoes – Make sure you have the right shoe type for the event, shoes for short distance sprinting have different features than those for mid or long distance sprinting.

Fit – The fit, is a personal preference, although a more snug fit is always advisable. Some athletes choose a shoe size or two down for w very tight fit, while others prefer a more relaxed and regular fit. However, make sure that your feet are not cramped or squeezed in the shoe, and that you can splay out your toes in the toe box.

Socks – Socks is another debatable factor. Some athletes choose to run without socks to enable a better grip for their feet inside the shoe and to better feel the track under their feet. Other athletes again prefer socks to prevent friction, blisters, and sweat build up in their shoes. So socks are completely a personal preference.

Breaking – Any new Spike Shoe or sprinting shoe will have some hot spots or friction areas, and a short break in period is required. Never try to race in a new pair of shoes that have not been broken in yet.

Save Some Money – Many manufacturers bring out newer models of Tracks Shoes and Spikes regularly, which usually only have a few new features, most of the time nothing critical. So why not opt for some older models, and save yourself some money.

Spike Plate – The most important part of your Sprinting Shoes. For short distance sprints, there should be around a maximum of seven to eight spikes on the spike plate, whereas for long and mid distance sprinting less spike, around five to six is needed.

Extras – Always make sure to carry extra spikes with you, as well as blank spikes, as some tracks may require a blank spike use.

---
Features of a Good Shoe for Sprinting
Spikes – Look for a rigid and firm spike plate with around 8 spikes for short distance sprints, and 5 or 6 for mid to long distances. Some tracks may require that you use blank spikes, and always make sure to have spares in your bag.

Uppers – Lightweight, flexible and breathable uppers are key. Woven uppers or mesh is a good quality and desirable material, with seamless interior linings and reinforced toe and heel.


Heel -A grip heel lock and extra cushioning or shock absorbency in the heel are good to have for protection against impact and injuries.

Midsole – Look for a lightweight RevLite or EVA midsole that offers firm support.

---
Reviews: The Best Shoes for Sprinting
Some of the top shoe brands and models that are ideal for Sprinting;
---
1
The EvoSpeed Haraka from Puma is a lightweight and comfortable Sprinting Shoe with Spikes and a snug Glove like fit. Available in two bright color options for men and women.
Breathable and lightweight mesh uppers.

Offers a comfortable glove like fit.

A snug lace closure.

Rubber outsole with spikes.

KMS Lite EVA cushioned midsole, for comfort and shock absorbency.

---
2
Sprinting Track Shoe with Spikes
One of the newest members of Saucony's expanding Track and Field Footwear collections, this is the Upgraded showdown version with reduced weight, and FlexiFilm uppers to inspire natural running.
An Isofit FlexiFilm technology uppers, for more naturl running.

A 10 Pin Pebax Spike Plate that adjusts to the requirements for firmness and flexibility.

Very lightweight design.

Rigid support and comfort features.

---
3
Woven uppers that are flexible breathable and offer maximum support.

A seamless toe tip for added comfort.

The Heel counter offers stability and Achilles protection.

A Lightweight phylon cushioned midsole.

Honeycomb patterned injected Pebax spike plate, That uses algorithm to identify where stiffness and flexibility are needed.

---
4
The AdiZero Accelerator from Adidas features the popular Sprintweb upper fit that offers a secure yet flexible fit, along with the SprintFrame Spike Plate that reduces torque on the midfoot to transfer power throughout the entire foot instead.
A sprint Spike shoe for track running and sprinting that is lightweight and highly breathable.

Offer cushioned support and comfort.

A SprintWeb Fit, For a more secure locked down fit.

PrintFrame Spike Plate, that reduces torque on the midfoot and transfers more energy throughout the entire foot.

Ideal field cleats that are durable and supportive for sprinting and field running.

---
5
A streamlined and high performance lightweight sprinting shoe from new balance with the latest FantomFit technology and a Pebax plate construction.
Synthetic uppers that are lightweight and breathable.

FantomFit design with no-sew overlays for an aggressive fit and feel.

There is an 8 Spike configuration design and full length Pebax Plate.

No-Sew material construction reduces friction and irritation.

---
Index Table: Top Rated Shoes for Sprinting
---
Please rate this article:
---
---