Fallen arches, or as the scientific name goes, Posterior Tibial Tendon Dysfunction (PTTD) is a widespread problem that affects the foot and ankle in many people today. PTTD can cause a lack of stability and support in the arch of your foot that results in a condition called a flat foot. The reason for my feet being flatter than normal is caused by a fallen arch, which results in me having to select footwear that provides added support and stability.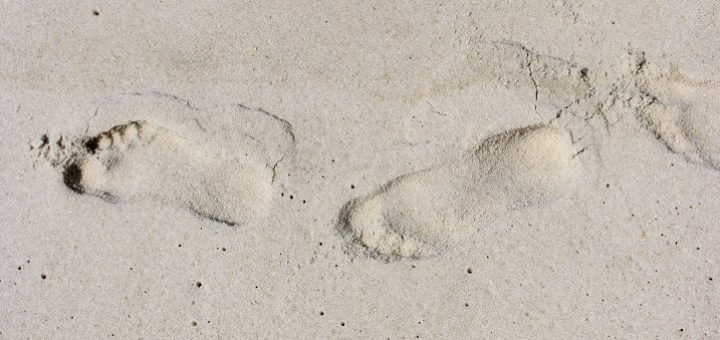 Index for The Best Shoes for Fallen Arches
What Exactly is a Fallen Arch
To explain to you what a Fallen arch is, you need to look at the Posterior Tibial tendon which attaches your calf muscles to the bones on the inside of your foot, this tendon's primary purpose is to hold up the arch of the foot and to support your foot when walking. When the Posterior Tibial Tendon becomes inflamed or torn its ability to support the arch is impaired, this condition called Posterior Tibial Tendon Dysfunction (PTTD) results in a fallen arch or flat foot. PTTD should not be left untreated should it become worse as it can result in arthritis at a later stage.

Symptoms of a Fallen Arch
I have here a few symptoms to look out for that distinguish a fallen arch;
Pain or swelling along the inside of the foot and ankle.
Difficulty and pain when walking, running or standing for long periods of time.
Pain on the outside of the ankle or the back of your foot.
The ankle rolls inward.
A flattened Arch.
In severe untreated cases arthritis may develop.
Causes of Fallen Arches
In suffering an acute injury such as a fall or sports injury can tear the posterior tibial tendon causing it to become inflamed and your arch to fall over time. Obesity, Diabetes, and Hypertension are also factors that can increase the risk of developing PTTD. PTTD and Fallen Arches are most common amongst women and people that are over 40 years of age, pregnancy can also cause fallen arches in women, particularly if they gain very much weight during pregnancy.
How do Fallen Arches Affect The Feet and Body
As I have read the case of genetic Fallen Arches or Flat Feet walking is such an important function will usually not cause any noticeable pain or discomfort in your childhood or early teen years. However, as a person gets older and the years advance their feet will eventually start demonstrating some symptoms of fallen arches or flat feet. The most common symptoms of fallen arches that I have noticed are usually aching, tired and swollen feet.
In most cases, symptoms of the feet may not be noticed at all, but other areas in the body they can start to express symptoms caused by flat feet. So in the actual danger of flat feet or fallen arches is not the symptoms caused by the feet but more likely the harm that is being caused to other joints and parts of the body.
Another interesting fact that I have come across is that Flat feet also has a lovely cousin that is a condition which joins fallen arches hand in hand called Overpronation. An interesting article to read on Flat feet is, Best Shoes for Wide Flat feet. because I have detected flat feet and overpronation early as a part of my fallen arches and followed the appropriate treatment methods, I was able to prevent degenerative processes in my back, hips, and knees caused by having flat feet or fallen arches.
Flat feet is said to be one of the biggest reasons that we always see and an epidemic of a back, hip and knee pain along with associated arthritis and other back, hip and knee ailments.
I have avoided further damage to my joints and muscles as well as prevent the need for a back, hip or knee surgeries by correcting flat feet and overpronation early in my life and maintaining the corrective procedures. Motion Control Walking and Running Shoesi have experienced are a great choice for flat feet or fallen arches.
A few telltale symptoms of flat feet that I usually find go unnoticed are, lower back pain, knee pain, hip pain, shoulder, and neck pain along with headaches.
The so-called growing pains that children go through in life is also usually related to having flat feet or fallen arches.
Features of the Best Shoes for Fallen Arches
My best shoe options for PTTD resulting and Fallen Arches are supportive, have a steel or plastic shank, and a very rigid sole and firm heel counter. Most shoes suitable for PTTD should be able to accommodate orthotics. The best type of shoe for a fallen arch should not have a high heel and should also not be flat, a medium or lower heel with a slight platform usually does the trick. Arch Support and motion control in my shoes are the two most are also two important characteristics.
There is a wide variety of shoes available on the market today that offer the best features for fallen arches; you can choose from dress shoes, sandals, work shoes, running or athletic shoes, and much more. Orthopedic shoes are not so limited anymore, and they are becoming much more popular, so you are sure to find a perfectly fitting and stylish looking pair of shoes for any occasion. If you enjoy training and running as much as I do, you can look at Cross Training Shoes for Flat feet.

Reviews on the Top Shoes for Fallen Arches
Listed below I have chosen a variety of shoes that are all designed to accommodate Fallen Arches, and provide the best comfort and many other fantastic features;

1
Running Shoes for Fallen Arches
The Altra Provisioness and Provision 2 is a running shoe that can be worn casually and for many other activities. A shoe that offers excellent support for fallen arches.

Manufactured from good quality synthetic materials.

A slip-resistant rubber sole.

Quick Drying Air mesh uppers for breathability and a FootShape Toe box for additional comfort.

An A-Bound midsole for support and a FootPod outsole.

The platform is fully cushioned with zero drop technology

Lace up shoe that is available in a variety of colors.

---
2
Slip On Dress Shoes for Flat Feet
A fashionable and stylish pair of dress shoes that can be worn for any occasion. They offer the stability and arch support needed for fallen arches.

Manufactured from genuine leather.

A rubber sole that offers good, stable grip on any surface.

A slight heel for just enough support and comfort.

The Inlay sole has a tanned leather surface with a soft layer of moisture absorbent foam underneath treated with Agion technology to provide comfort and freshness while improving circulation.

A tight and comfortable, supportive fit.

Available in a few neutral colors.

---
3
Extra Depth Therapeutic Arthritis, Fallen Arch and Diabetic Shoes
This shoe has it all. Orthofeet design orthopedic shoes that cater specifically for a variety of foot conditions. The Orthoheel Chattanooga and Orthofeet 410 will most definitely provide you with the most comfortable and supportive fit for fallen arches, and arthritis caused by PTTD.

Fabric and leather uppers.

A sturdy rubber sole.

Multi-layer orthotic insole with anatomical arch support and a gel padded heel seat that is removable.

The non-binding design with its soft fabric lining and padded foam will enhance comfort and protect sensitive feet.

A wider fit.

A roomy toe box eliminates the pressure if you have hammer toes or bunions.

---
4
Orthaheel technology Sandals for Fallen Arches
Vionic sandals have been designed by a podiatrist to offer you the best arch support and comfort. Vionic sandals offer a wider fit which is advantageous when you have fallen arches. These sandals are also surprisingly durable and have an elegant and fashionable, appearance.

Comfortable and flexible leather uppers.

A Podiatrist-designed biomechanical footbed with added arch support and a deeper heel cup to keep your feet in their natural position.

The lightly cushioned footbed made with Orthaheel technology ensures all-day comfort and support.

A sturdy outer sole.

All the comfort and support that you will need for fallen arches.

---
5
Extra Depth Orthopedic Comfort Flat Foot and Diabetic Loafers
Once again Orthofeet offers a classy and stylish orthopedic shoe that will provide you with the best available comfort and support technology required for fallen arches.

Also, features a multi-layer orthotic insole with anatomical support and a padded gel seat.

A lightweight cushioned sole with Ergonomic-Stride design to enhance foot motion and soften your steps.

A soft, foam padded non-binding design with extra depth and a roomier toe box to relieve pressure on your toes.

Gorgeous leather uppers that are comfortable and supple.

---
6
Athletic Shoe for Fallen Arches
A comfortable and breathable motion control running shoe that will help to relieve pain caused by fallen arches as well as preventing supination. The New Balance W1540v2 is an innovative athletic shoe that offers a comfortable and perfect fit.

Blown rubber outsole and a dual density collar foam.

Complies with Medicare code A5500.

No-sew material application, which makes it a very comfortable shoe which fits your feet perfectly.

Breathable synthetic mesh uppers.

Excellent arch support especially for people with fallen arches.

A soft mesh aimed to lessen joint inflammation and enable free toe movement, a crucial element in preventing bunions.

A great shoe for people with flat and wide feet as well as lower back pain.

Available in different width sizes.

---
7
Walking Shoes for Fallen Arches
The Vionic Walking shoe with its Orthaheel technology will give you all the necessary support and cushion to accommodate fallen arches. This is an excellent walking shoe that is breathable, lightweight and has a podiatrist-designed insole that will aid in relieving the symptoms of foot conditions.

The uppers are breathable and water resistant.

An added mesh lining and sock liner to enhance breathability.

The Orthaheel technology used in this shoe makes it the Best Motion Control Shoes.

Added cushioning with the soft EVA midsole.

The rubber outsole offers excellent traction capabilities and is very flexible.

This shoe provides Arch support, particularly for fallen arches.

Available in a few color variations.

---
The above selection of shoes that I have chosen for fallen arches all offer excellent arch support and stability. The variety ranges from dress shoes to casual and running shoes. Brands such as Orthaheel ECCO, and Vionic design shoes specifically for foot conditions such as fallen arches to provide us with the best arch support, stability and comfort in a durable and good looking shoe.These shoes have provided me with the support and comfort that I required, why don't you try them for yourself!
---
---