One of the most bothersome running injuries or pains is pain and inflammation caused by Plantar fasciitis. when you walk or run with Plantar Fasciitis, you can have heel pain for many months or even years before the Plantar Fascia heals.
Finding good shoe when you have Plantar Fasciitis could be quite a daunting task. The fortunate thing is that if you take care of your feet in most cases, Plantar Fasciitis will calm down and heal in a matter of weeks.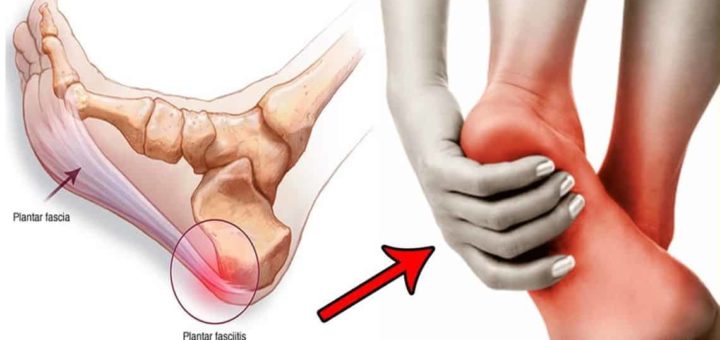 ---
What is Plantar Fasciitis and What Causes It
Plantar Fasciitis is a foot condition that causes pain in the bottom of the heel, usually when you are active and especially after sleeping or resting for a while.
The Plantar fascia consists of a band of tissue or ligament that connects your heel bone to the toes or front of your foot and helps to support your arch when you walk.
When the Plantar Fascia becomes weak or damaged because of stress and strain from constant repetitive activities inflammation and swelling sets in causing pain and stiffness in the heel.
People who are overweight or have flat feet stand a greater chance of developing Plantar fasciitis than those who are lighter on their feet and have neutral or high arches. Pregnant women may also experience bouts of Plantar fasciitis later during their pregnancy.
If you are active on your feet for long periods of time mainly performing repetitive activities that put a strain on your feet or arches you are at a very high risk of developing Plantar Fasciitis.
Wearing shoes with soft soles or poor arch support does not provide enough support or shock absorption and can aggravate or cause Plantar fasciitis to develop.
If you are looking for a versatile shoe for running and training, the best Cross Training Shoes for Flat feet is a worthwhile article to consider.
---
How to Treat and Manage Plantar Fasciitis
Here are a few tips on managing Plantar Fasciitis
Always wear a comfortable shoe that is well cushioned and provides excellent arch support.

Avoid shoes that are hard or running or walking barefoot.

Icing your feet a few times a day will relieve pain and swelling particularly after a run.

Always stretch your calves, feet, and legs before running or performing and activity.

You can use an over the counter orthotic insole in your running shoes that provides cushioning and arch support.

Wear shoes that provide cushioning and arch support and that has a thicker sole.

---
The Best Shoe Types for Plantar Fasciitis
It is challenging to find the right shoe for running when you suffer from Plantar Fasciitis as you will need to look at the shape and size of your foot, your arch type as well as if you pronate or supinate.
Most individuals who suffer from Plantar Fasciitis have a flat or low arch and tend to overpronate, although this is not always the case.
For performing any activity with a hard impact, especially running a good shoe must first and foremost provide excellent shock absorption and arch support as the impact of these activities can cause excessive strain on your feet, joints and muscles which can lead to pain and injury.
For those who suffer from Plantar Fasciitis good arch support, sturdy heel support and soft and ample cushioning are imperative. Some people may choose to have only one of these features; others may require all of them to deliver the correct amount of comfort and support.
As with any shoes, the primary consideration is to reduce the impact on the feet and in the case of Plantar Fasciitis, the heel to prevent pain and further damage.
---
Features of Plantar Fasciitis Shoe
Some characteristics to look for in a good shoe for Plantar Fasciitis
Light and comfortable construction.

Breathability and moisture wicking capabilities.

Good arch support.

Well cushioned.

A durable and flexible thick outsole.

Good shock absorbency.

A proper and comfortable fit.

A deeper and supportive heel cup.

---
How to Relieve Symptoms of Plantar Fascitis
There are quite a few methods you can use to treat heel pain and Plantar Fasciitis ranging from less severe treatments to surgery in more serious cases.
Reducing the amount of time that you spend on your feet and taking rest periods between time on your feet will most definitely help.
Shoes contribute to at least 25% of all Plantar Fasciitis cases so make sure that you wear comfortable shoes that are undamaged and fit well.
A few stretching exercises can help to rehabilitate heel pain and Plantar Fasciitis.
Foot orthotics and supportive insoles along with medication are also great methods of treating Plantar Fasciitis.
---
Reviews: Best Shoes for Plantar Fasciitis
Here are some great reviews on the best available walking, running, and dress shoes for Plantar Fasciitis sufferers;
1
Stability Running Shoe for Plantar Fasciitis
The Saucony Guide 7 will provide you with the best forefoot comfort, excellent support, and stability in a durable and comfortable running shoe.
The lightweight and Powergrid material used to construct the sole unit of the Saucony Guide 7 is much more durable and absorbs the impact from the ground.

Strategically placed crash pads and a redesigned midfoot shank provide even better support and enable a smoother heel to toe transition.

An EVERUN topsole providing continuous cushioning.

The Tri-Flex outsole ensures better ground contact and flexibility.

The compressed EVA foam midsole provides exceptional comfort and support.

Comfortable and breathable uppers keep your feet dry and cool.

---
2
Running Shoe for Bad Knees and Overpronation
One of the most comfortable Plantar Fasciitis running shoes is the Asics Gel Kayano 25 which provides serious support for the heels and great flexibility of the foot.
The Asics Gel Kayano has been constructed to provide a customized fit for every foot shape using lightweight and breathable materials.

Deepened flex grooves and gel pods in the forefoot area provide excellent flexibility and a smoother transition.

The soft SoLyte foam in the midsole ensures cushioned comfort and shock absorbency.

The exceptional heel supporting system ensures that you feel no pain or discomfort when you are running and that the plantar fascia is able to heal quicker.

---
3
The perfect dress shoe for any occasion that will bring instant relief from heel pain.
A premium orthotic insole and ortho cushioning and support.

The non-binding extra depth designed offers a more comfortable fit.

A soft seam free lining, with supple leather uppers.

An ideal dress shoe for conditions such as Plantar Fasciitis, Knee pain, Diabetes, Neuropathy, Hammer Toe, Bunions and many more.

---
4
Breathable Plantar Fasciitis Running Shoes
Breathable; Comfortable and supportive the Saucony Kinvara 9 offers you all the desired features to improve your running performance and to relieve the symptoms of Plantar Fasciitis.
Synthetic and mesh uppers that are lightweight and breathable with Flex Film welding construction for a more flexible and comfortable fit.

The durable XT-900 carbon rubber sole offers long-lasting traction and grip on different surface areas.

A HydraMax moisture-wicking collar lining will keep your feet dry and comfortable.

The impact absorbing Powergrid technology helps to center the feet and reduces the impact on the feet.

A high abrasion EVA midsole provides lightweight comfort and cushioned support.

The Saucony Kinvara 9 will offer you smooth transitioning while keeping your feet secure and comfortable.

---
5
Flip Flop Sandals for Platar Fasciitis
These stylish flip flop sandals will provide you with the most effective relief from pain caused by Plantar Fasciitis.
Biomechanically designed to offer the best arch support and cushioning to reduce impact.

A thick high traction outsole that absorbs shock.

Soft padded and lined toe post uppers.

A plush and comfortable contoured and cushioned footbed.

---
6
Running Shoes for Plantar Fasciitis in all Foot Types
The New Balance 990V4 provides exceptional cushioning and shock absorbency capabilities which are exactly what you need for the painful symptoms of Plantar Fasciitis.
A classic look with mesh inserts in the uppers for improved breathability, the New Balance running shoe is lightweight and comfortable.

A dual density collar for a more supportive and snug fit.

A blown rubber forefoot for lightweight cushioning and ABZORB cushioning in the midsole for further support and comfort.

This athletic shoe offers excellent shock absorbency and lightweight support which makes it a perfect Plantar Fasciitis running shoe for heavy and long-distance runners.

---
7
Slide Sandal with Plantar Fasciitis Roller
The Vionic Kiwi is a comfortable slide sandal that will cradle and support your foot while providing effective relief from heel pain.
Biomechanically engineered footbed that contours and cradles your foot.

Excellent arch support and cushioning for comfort and shock absorbency.

A durable outsole that offers good grip.

The leather uppers have a soft and breathable padded lining.

Comes with an additional Plantar Fasciitis relief foot roller.

---
8
Plantar Fasciitis Relief High Top Boot
An excellent pain relief shoe, the Dr. Comfort boot will not only protect pressure points on your feet but similarly provide relief from pain.
Anatomical arch support with protection for all the key pressure points on your feet.

Comfortable leather uppers with a non-binding relaxed fit and seam-free lining.

The biomechanically designed orthotic insole offers cushioned comfort and support.

This shoe is designed to provide pain relief related to conditions that affect your feet, knees and lower back.

A durable shock absorbing outsole.

---
9
Plantar Fasciitis Running Shoe for Overpronation
An excellent choice for overpronators and a wide width foot the Brooks Addiction 13 helps to control motion and offers a more wide and comfortable fit.
The lightweight mesh uppers offer a wider and more flexible fit with the added benefit of keeping your feet cool and dry.

The brooks addiction 10 provide two-layer cushioning with the DNA cushioning and the BioMoGo midsole for exceptional support and comfort throughout the entire shoe.

The insoles will provide effective support and motion control to aid in correcting over-pronation.

The Brooks Addiction 10 is well suited and durable enough for walking and running on hard and cement floors and tar surfaces.

---
10
Plantar Fasciitis Orthopedic Walking Shoes
These shoes will have you feeling like you are walking on a cloud. The Orthofeet Walking sneaker features the ever popular Ortho Cushioning System.
Features an orthotic cushioned insole, with an anatomically designed footbed and cushioned heel pad.

Non-Binding extra depth uppers with more toe room.

Mesh and synthetic materials that are seam free against your feet, and superbly breathable.

Ortho Cushioning system in the midsole and outsole for excellent shock absorbency.

different colors available, and wider widths available.

---
To Conclude
Plantar Fasciitis Running shoes are made to give you the best support especially as your motion changes in order to prevent aggravation to your condition which is important to remain pain-free.
The most important features of a running shoe for Plantar Fasciitis to always keep in mind are; Shock absorption and Arch support!
Index Table: Top Rated Plantar Fasciitis Running Shoes
---