Indoor soccer has become quite a popular sport even among women. Indoor soccer players require a shoe that is a bit different to that of an outdoor soccer shoe; that can perform well on hard and slippery indoor sports floor surfaces.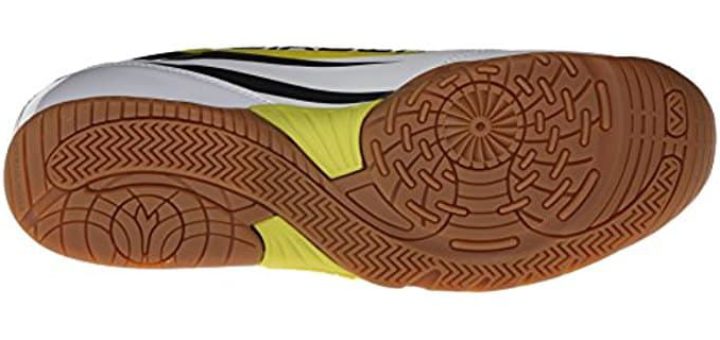 Index Table for the Best Indoor Soccer Shoes
Indoor Soccer
Indoor soccer or Arena Soccer is a type of football game that originated from association football that has been adapted in such a way that it can be played in an indoor sports arena. Indoor soccer is most popular in the U.S.A and Canada where snow makes it difficult to play the game outdoors during the winter months. These countries have adapted sports such as football, hockey, and basketball so that it can be played in an indoor arena.
The regulations and rules of indoor soccer differ slightly from that of outdoor soccer. Indoor soccer courts are delimited by means of walls instead of lines as with outdoor soccer, and with indoor soccer, there are no player throw-ins.
Indoor Soccer Popularity
Indoor soccer has become so popular that it is being played throughout the entire world. The current international federation that is promoting indoor soccer is the world Mini football federation or WMF which is based in the Czech Republic. The first indoor world championship soccer tournament was held in 2015 in the United States, and the U.S.A off course won the first edition of the relaunched tournament.
The Three Types of Soccer Shoes
A soccer shoe comprises of three main parts; the top part or upper of the shoe, the midsole or inside and the outsole or bottom part of the shoe.
The upper part and midsole for each of the three different types of soccer shoes remain the same although they are available in many different colors, styles, and designs and each has their own unique technologies. The only difference between the three soccer shoes is the outsole; every shoe types outsole is designed specifically to perform under a certain field condition.
Indoor Soccer Shoes
The indoor soccer shoe is designed to play soccer indoors on indoor courts or fields such as gyms or soccer facilities. An indoor soccer shoe has a flat surface and is a low-cut shoe with a slightly harder sole that your traditional soccer sneaker.
Turf Soccer Shoes
A turf soccer shoe has various raised patterns on the outsole enabling it to be used on harder outdoor floor surfaces as well as artificial turf.
Outdoor Soccer Shoes (Cleats)
Soccer Cleats have the specific function for playing soccer outdoors. Outdoor Soccer Cleats provide excellent traction to prevent the soccer player from slipping and to give them an opportunity to stop ,turn and accelerate in speed without any difficulty. A soccer cleats outsole usually has several hard rubber, plastic or metal studs which sink into the outdoor surface and provides better grip. These studs have to be a specific length so that they can sink deep enough into the floor surface area to provide good grip but also not to cause pressure on the feet.because soccer fields come in different surface consistency such as hard dirt, green grass or medium grass soccer cleats are available with different stud types according to different field conditions and consistencies.

As you can see soccer shoes are all constructed the same but their outsoles are designed for specific floor surfaces. Today we are concentrating on indoor soccer shoes for use on Gym Floors or indoor soccer arenas.
Charactaristics of an Indoor Soccer Shoes
Leather or suede uppers in different colors and designs.
A non-marking flat gum rubber outsole for improved traction and grip.
A tread pattern with interlocking traingles or herringbone patterns.
A low profile fit.
A padded heel and soft insole for support and comfort.
Good Shock absorbency.
The best Available Indoor Soccer shoes
Here are some of the top rated soccer shoes that have all the qualities required to play indoor Soccer;
1
Never worry about losing your grip in the Adidas Performance X15.4's, they are entry level indoor soccer shoes that will give you that much required extra traction and support for quick turns and unexpected plays.

The Adidas Performance x15.4 is appropriate for indoor soccer fields.

Lightweight uppers with a soft moisture-wicking lining for dryness and comfort.

Available in funky and vibrant colors and designs.

The rubber sole is non-marking and offers exceptional grip and traction for fast turns and movements.

---
2
Puma is a very popular athletic brand that is used globally for sports, lifestyle and fashion purposes. The Puma Evospeed 4.4 is a comfortable indoor soccer shoe that provides great traction and grip.

Soft and comfortable uppers with lace up closure and padded tongue and collar for an extremely comfortable and supportive fit.

A soft textile lining keeps your feet dry and prevents skin irritation.

The foam insole provides luxurious comfort and support.

A non-marling rubber outsole improves traction and ensures a good grip.

---
3
For the serious player, the Adidas performance Ace 16.4 will allow you to outsmart your opponent with fast and intricate movements. The soft control uppers will improve every touch and movement while the outsole provides exceptional traction on indoor floor surfaces.

Soft and comfortable synthetic uppers that are lightweight and lined with a moisture wicking lining.

A classic three stripe Adidas design for a more classy and sporty appearance.

The rubber traction outsole is designed to ensure serious ball control on all indoor surfaces.

A comfortable midsole and insole provides support and comfort.

---
4
The sleek and snazzy Puma Vulcanized Sala looks great and plays hard on the indoor arena.
Leather and synthetic suede uppers with mesh inlays and a nylon lining around the ankle for a comfortable and dry fit that provides excellent breathability.

The wrap around midsole with the striped toe and Puma forest rip are classic Puma sneaker details for comfort and style.

A durable synthetic sole provides both grip and traction on indoor floor surfaces.

---
5
The Diadora DD-NA is a proud Italian legend for soccer players that invest in style, performance, and craftsmanship.

The flat rubber outsole is perfect for all indoor floor surfaces providing excellent traction.

The Diadora provides a snug and comfortable fit and is made from the highest quality materials.

A shock absorbing insole reduces strain on your feet and returns energy to the feet.

The Diadora DD-NA is available in three stunning color options.

---
As a lady soccer player, your feet needs extra protection particularly during all those quick and intricate movements. The listed soccer shoes for women are the best in their ranges chosen from the most popular and trusted brands.
---
---