I cannot see myself without my flip flops in the summertime, particularly for a warm sunny day at the pool or beach, they are also my go to shoe after a session at the gym to relax my feet. For those who are new to flip flops, Flip flops are a type of open toe sandal that consists of a flat sole that is held loosely on your foot by a Y-shaped strap or thong which passes through between the first and second toe and around the sides of your feet. If I can put it plainly, flip flops are very casual shoes worn mainly at summer time by women, although they are also popular amongst us men, for lazy activity days spent in the sun. Flip Flops have taken the world by storm and have become so popular that they are now available in a vast variety of colors and designs with different types of footbeds offering more support and stability.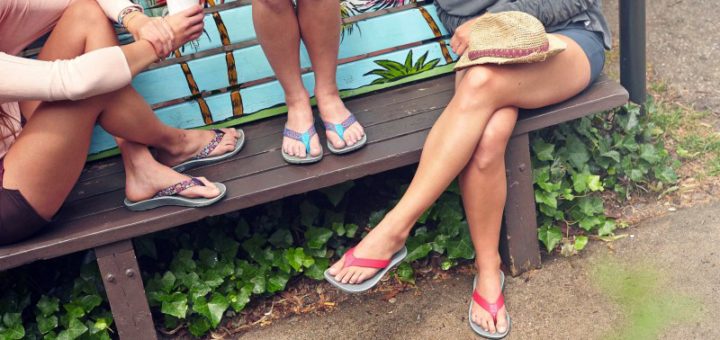 Comparison Table for The Best Flip Flops
Different Types of Flip Flop Footbeds
here are my explanations of the different types of Flip Flop Footbeds available;
Light Foam Footbed
The light foam footbed is the footbed that you would see in a classic and least expensive flip flops that are usually used for the beach and casual outings. This type of footbed offers the least support and shock absorbency and should not be used for extended wear. I usually grab this type of flip flop for a quick excursion at the beach or pool area.
Foot Molding Footbeds
One of my favorites, these are usually made from EVA foam or rubber that conforms to the shape of the foot. EVA is very comfortable and soft on the feet, but it does not provide the best support and stability for prolonged wear. Best Walking Sandals is an Article that has some comfortable and supportive sandals available.
Novelty Footbeds
I have noticed that there are many different brands of flip flops, some offer their own novelty footbeds such as comfort, support, added cushioning as well as different colors and shapes. Most novelty footbeds live up to their promise in offering you whatever characteristic they are said to have, but in my experience, they are still not the most stable of footbeds.
Contoured Footbeds
Contoured or molded rubber footbeds are designed for the heavy wearer for all day adventures and outings. They are basically anatomical molds on the bottom of your feet with heel cups and added padding. Contoured footbeds offer you excellent comfort, support, and stability. This is my go to choice for all day wear and outdoor adventures in the summer.
The Benefits of Wearing Flip Flops
Although it may not seem so, flip flops have quite a few benefits that I have come across;
Scientific studies have proven that wearing a pair of flip-flops can aid in relaxation and calmness of the body and mind. Flip flops can alleviate muscle and joint ache at the end of a long day of wearing high heels or similar footwear. They will also help to reduce stress and strain on your knees as well as pressure on your feet and toes. Flip flops will keep your feet cool and dry because of their open design, so they are excellent for sweltering weather conditions. Having dry and cool feet during summer can help to prevent many foot ailments, such as Hyperhydrosis. Despite their physical and medical attributes flip flops are very affordable and available in such a large variety of colors and designs that they can be worn almost anywhere and with any casual outfit
A Few Inaccuracies on Flip Flops
To me, Flip Flops are the official shoe for those hot summer days and the beach, they are easy to get in and out of, and they go well with almost any outfit that I own.
Unfortunately, I have heard that flip-flops have a bad reputation for being too basic and casual as well as noisy. Another myth is that Flip Flops do not provide much support or comfort.
So to set the records straight, here are a few facts about flip flops;
The noises that flip flops make is just as normal to the wearer as the clacking of high heels and not all flip flops make those noises.
Flip flops are not just casual and made for the beach there are thousands of designs for every occasion from casual and sports to formal dress.
Flip Flops do have a tendency to make your feet dirty therefore you need to be careful not to walk through mud and dirt when you wear them just as with any other open sandal.
Flip Flops cannot be classified as 'basic" anymore as there are so many colorful and decorative designs available.
Flip Flops are not all many uncomfortable designs provide ample support and cushioning as well as many other comfort features.

Flip Flop Etiquette

I have arranged my flip flops in two categories; Flip flops or Thong sandals they are both open shoes with a 'Y" shaped component separating the toes.
To explain the difference; Flip Flops are more casual in appearance and usually made from rubber, vinyl, webbing or other material that is water friendly. Thong sandals are available in a wide variety of different materials and designs with various heel types and heights and can be quite extravagant. Thong sandals are more classy and dressy than the casual Flip Flop; I usually wear them for an evening out in the summertime.

When to wear Flip Flops

In my experience Flip Flops are ideal to wear at the beach or for everyday casual wear. They also make an excellent leisure shoe to wear at home after work or gym. Trips to the grocery store; hanging out with friends and other casual encounters are all ideal occasions for wearing casual Flip Flops.

What To Wear With Flip Flops

I wear my Flip Flops with casual shorts, capri pants or jeans as well as short skirts and beach wear.

What to Wear with Thong Sandals

Thong sandals are more classy and meant for more formal occasions as well as casual encounters. My Thong sandals look great with capris, shorts, skirts, maxi skirts and dresses, jeans, leggings, casual and even some formal dresses.

Men Wearing Flip Flops

A new debate that is heating up quite fast is the topic whether a man should wear Flip Flops, particularly in a non-beach situation.

According to some people, I have read that Flip Flops are said to be the sweatpants of footwear, they offer no hint of a person's style or character and say nothing about the wearer. Flip Flops are cheap, comfortable, easy to wear and remove but that is pretty much all that they are. They should be worn as leisure wear at home or to the beach alone.

I do not agree with this it is quite unfair basing someone's character and style on footwear. I find that Flips Flops are most definitely not suitable for all settings but they do come in handy in other situations, and they are available in more acceptable styles and comfort levels giving them a higher ranking.

In my opinion, Flip Flops will look stylish on a man in an unexpected situation or ate the beach and maybe for a quick trip to the store or friends home. I agree that Flip Flops do not belong in any office or formal situation, not even a casual event or office. Flip flops are a stylish complement to a warm-weather look in a casual setting; they also have a significant effect on attitude and style.

That said as long as Flip Flops are worn for the appropriate occasion, there should not be any problems. Flip Flops are comfortable and come in many different styles with unique comfort and support features. Flip Flops, in general, can be just as stylish and acceptable on a man as they are on a woman, and there should be no age, sex or another form of discrimination when it comes to these comfortable and affordable shoes if you ask me.

When are Flip Flops not Suitable

There are however certain instances where I would say that Flip Flops are unacceptable attire;
Many offices have certain dress codes that need to be adhered to, and although there may not be a rule against flip-flops in the office, they are certainly not very professional to wear to the office. You can have a look at the article most comfortable flats for work for more suitable casual work shoes.

Casual flip flops should generally not be worn to red carpet events, churches, funerals, business meetings, first dates and blind dates and other formal events. For these events rather settle for dress sandals.

Flip Flops and Comfort Features

For people with a foot condition, most Flip Flops do not provide adequate support or comfort and therefore are not suitable to wear for long periods of time. I wear my Flip Flops mostly on soft beaches or for a quick go to shoe for a trip outside.
Because of the open design of a flip-flop, they do not provide much protection, and you are more likely to injure my feet or dirty them quickly.

Fortunately, there are so many brands of Flip Flops available that each has unparalleled comfort, and support features that I no longer need to worry about comfort.
There are therapeutic flip flops available that have a supportive and cushioned insole and midsole to provide shock absorption and cushioned support particularly for people with foot pain or foot conditions, such as in my case.

Other flip flops that I like have a contoured, arch-supportive or cushioned footbed along with moisture wicking capabilities to keep your feet dry and comfortable.
A thicker outsole on your flip-flop can also help to absorb shock and provide cushioned comfort.
The uppers of many flip flops are designed to be soft and flexible on the skin not causing chafing or blisters.
Most flip flops are water friendly or repellent

Reviews on the Best Flip Flops – 2017 Summer Collection

I have compiled a list of some of the best flip flops for 2017 with all their attributes;
1

Flip Flop Sandal with Tide Sequins

This is another fabulous sandal from Vionic; it is stylish and fashionable enough to wear everyday and anywhere. A comfortable and supportive flip flop sandal available in a large variety of colors for women and black and brown neutral colors for men.


Made from the finest quality, comfortable synthetic materials.

A soft double rubber sole to reduce shock and pressure on the feet.

The unique Orthaheel Support technology helps to reduce stress on the knees and joints.

A comfortable and supportive footbed.

The Biomechanically designed motion control Orthaheel footbed enhances comfort and support.

Durable and comfortable enough for everyday wear.


---

2

Beach Flip Flops with Arch Support

A carefree and casual flip flop by Clarks that is soft, lightweight and extremely comfortable. Clarks have been in business for over a 100 years making shoes that are of the finest quality with all the options that you desire.


Manmade from the finest quality materials.

A durable synthetic sole.

The adjustable strap in the Clarks Breeze Sea for Women allows you to change the size according to how narrow or wide your foot is.

The men's Kenrick Flip Flop is manufactured from the highest quality leather and fabric with a textured footbed and fabric overlays at the straps.

The Breeze Sea has a floral printed footbed.

The midsole stripe and padded footbed add comfort and support.

The heel is slightly elevated to reduce shock on the feet and add stability.

Lightweight and durable.

Available in almost every color you can think of.


---

3

Flip Flops with Arch Support

The Reef Ginger Flip Flop is a soft and lightweight flip flop with a no-fuss casual design. The straps or thongs are available in different colors on the standard black footbed. This is a more casual flip flop with light support and superb comfort.


The soft polyester strap is available in different colors and designs.

Padded footbed for comfort and support.

Durable and high-quality synthetic outer sole.

Arch supportive triple density EVA midsole.

Lightweight and comfortable.


---

4

Crocs are a well-known name in breathable and comfortable shoes for casual wear. The Crocs Capri is a flip flop that has a sleek and stylish design with the same fantastic fit.


The uppers are made from the finest quality leather.

A durable synthetic sole.

The leather straps are soft with a microfiber lining.

A deep heel that cradles your foot.

A dual cross comfort foam footbed on top of a Croslite foam outsole.

Soft and comfortable all day support.

Many different colors available.


---

5

The Olukai Ohana is a high quality and durable sandal that offers you many fantastic support and comfort features. This is definitely an all day wear sandal available in many different colors and designs to be worn for any occasion.


Made from the hypo-allergenic synthetic material.

A synthetic and water resistant strap.

A quick drying and soft knitted lining.

The non-marking gum rubber outsole offers excellent grip.

It comes with a high-quality neoprene backer.

An EVA midsole that has been molded with anatomical compression features.

The drop in footbed offers more support and comfort.

A great travelling shoe and sandal for holidays on the beach.

Soft Nylon Webbing.


---

6

Classic Comfortable Flip Flop

The Teva Classic Mush is fun and colorful casual flip flop that is comfortable and supportive enough for everyday casual wear.


The upper part of the Teva Mush consists of a three point thong made from soft and comfortable textile material that is available in many fun and vibrant colors and designs.

The Soft Mush top sole has enhanced arch support and a soft and comfortable cushioned feel for all day wear.

The EVA outsole also features a traction pattern unique to the Teva Mush that provides durable traction on slippery surfaces while the EVA in the outsole provides shock absorbing cushioning and support.

The TEVA Mush is shipped in a stylish bag with a plastic hanger for easy storage and safe keeping.

The high traction outsole provides excellent grip on slippery surfaces.


---

7

The Chaco Zvolv is a comfortable and sporty flip flop that is available in many vibrant colors, for the outgoing and adventurous woman.


The uppers consist of polyester jacquard webbing straps with a synthetic leather badge and nylon webbing toe post for a comfortable and sleek looking fit.

The irregular grid inspired textured footbed provides more comfort and better traction.

A Luvseat polyurethane midsole with and extra-soft polyurethane compound added to it will give you the ultimate in comfort and support.

The Z and Volv outsole has a non-marking Eco tread rubber compound with 3mm z-inspired lugs for superior grip and traction when you need it the most.

The Chaco Z-Volv is available in many vibrant colors and made for different terrains.


---

8

A stunning and comfortable flip flop the FitFlop is classified as a thong sandal because of its more stylish appearance and higher heel making it a more dressy flip flop for every occasion.


The Track Li FitFlop for men has Nubuck leather uppers and is available in Chocolate Brown and Timber Wolf colors.

The FitFlop Flare for women have uppers that are decoratively studded with multi-tonal rhinestone crystals for a more glittering appearance that you can dress up from plane to pool party.

A softly padded microfiber-lined suede upper midsole that is 41mm in height will provide you with luxurious cushioned comfort and support.

The midsole is also biomechanically engineered with a standard micirowobbleboard for better shock absorption and underfoot pressure diffusion.

The FitFlop Flare and Track Li has a generous and comfortable fit for all-day wear and a classy and fashionable appearance for every occasion.


---

As you can see from my above list, I have chosen flip flop sandals that are not only attractive to wear but also give you the best support and comfort for everyday wear. I enjoy wearing flip flops for certain occasions and as leisure wear but have also found that you do need flip flops that provide at least a bit of support and cushioning. The Flip Flops I have listed are made from the finest quality materials to give you a durable flip flop sandal that fits perfectly and comfortably.

---

---