Despite this, there are still very few drivers who pay attention to their footwear when driving, the one thing that could best enable them to control their vehicles safely in an emergency.
Women are one of the biggest culprits in this scenario, as they are more likely to wear footwear that is dangerous and not effective when it comes to driving safety.
---
Footwear and Driving Safety for Women
So What Are the Rules
Many countries do not specify the appropriate footwear to wear in their legislation about driving although some countries require drivers to ensure that their clothing and footwear, does not present any hindrance from using the controls of the car in any manner.
How Footwear Affects Your Ability to Drive Safely
The choices you make on the road may not just have an impact on your own life, but the lives of others equally. The footwear that you use for driving must be able to allow you to feel and exert the pressure needed on the pedals for effective acceleration and braking.
The appropriate footwear should also prevent you from pressing two pedals at a time, or hooking your shoe on the floor mat, and they should prevent jerky movements.
When you need to drive for very long distances that place stress on your feet and ankles, as a supportive and comfortable shoe can leave your feet feeling more relaxed and prevent pain and foot fatigue, which in turn could affect your concentration and reaction speed.
Driving Barefoot
If you have to choose between driving with high heels, flip-flops or barefoot, then barefoot by far is your best option, although it is still not recommended.
Driving barefoot can cause pain and cramping, and your feet can slip from becoming sweaty. You may also not have enough strength in your bare feet to apply the appropriate amount of pressure to the pedals. Wearing socks alone are even worse, as they will most definitely slip!
---
Shoes to Avoid When Driving
Here are some shoe types you should definitely avoid when driving;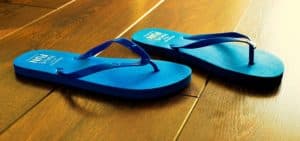 Flip Flops:
They offer no support, come off easily, and get hooked on the pedals.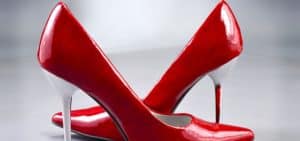 High heels:
Your heel is not on the floor, where you need it to apply pressure on the pedals, the heel can get caught in the floor mat, heels offer less grip and get stuck under the pedals.
Wedges and platforms, worse choice ever!!
Boots may restrict necessary ankle movement and catch against your seat.
Thickly padded and soled running shoes may not be effective for safe driving.
---
Tips on Footwear and Driving
Make sure your shoes are comfortable and supportive enough for a long drive.

The sole must not be too thick or thin, allowing you to regulate pedal pressure effectively.

Basic trainers and flat soled shoes are your best options, just stay clear of a very wide sole.

Make sure your footwear fits well with just enough bulkiness to protect your feet during a crash, but not so much as to hinder driving.

Be extra careful in wet weather as slippery shoes can easily make your feet slip off the pedals.

Look for comfort features such as cushioning and arch support.

Likewise, look for a shoe that is lightweight and breathable.

The sole of the shoe should offer effective grip and traction.

Whether you are driving to a faraway destination or just a short distance, make sure that you take all precautions necessary to drive safely;
---
Reviews: The Best Shoes for Driving
Whether Driving Long distance or just Short Stances, these shoes will always come in handy for safe and easy driving;
In The End
Do not let your footwear become the reason for a life and death situation. Keep safe when driving, and wear appropriate footwear that is easy to drive with, posing no risk to your safety.
I have chosen a selection of shoes that have no attachments or unnecessary niceties that could cause difficulty when driving, as well as shoes that have soles the offer excellent grip.
As you can see they are all slip on models that are easy to put on and off, hence you only want to wear them while driving and change your shoes at your destination.
---
Index Table: The Best Shoes for Driving
---
Please rate this article:
---
---
Last update on 2020-06-24 / Affiliate links / Images from Amazon Product Advertising API