There are many people today who need to wear wider width of footwear.
Most people with flat feet or fallen arches also tend to have wider feet.
Many foot conditions such as bunions and bone deformities may also be a cause for you needing a wider width shoe to reduce pressure on the affected areas.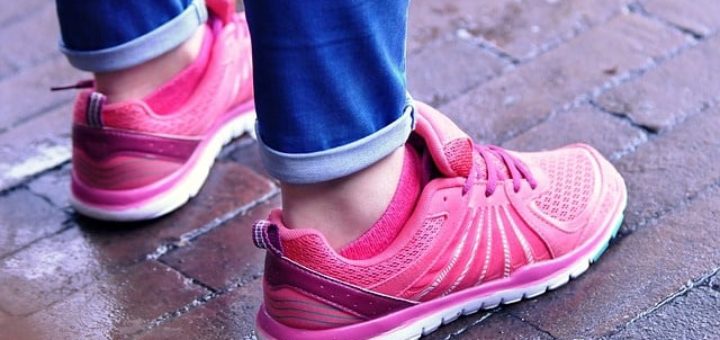 ---
Causes of Wide Feet
Over time the size and shape of your feet can change, and your feet may become longer and, or wider. In the case of women when they get pregnant a hormone called relaxin is released to make their ligaments more flexible, in some women this causes their feet to grow in width and length which can be permanent.
In some cases gaining weight, suffering a foot injury or certain medical conditions can also cause the shape of your feet to change usually resulting in a flatter and wider feet.
At the end of the day, it does not matter what your foot shape or size is, what is important is that you wear footwear that is comfortable and that supports your feet thoroughly.
Features of Wide Width Shoes
When you go to your shoe store you will need to ask the salesman for his ranges of wide width walking shoes, usually, there should be quite a few brands that will give you this option.
You will have a choice between narrow, medium or a wide fit. Make sure to fit the shoes and walk around in them before making a purchase.
---
The Benefits of an Appropriate Wide-Width Walking Shoe
Walking alone can put much stress and strain on your feet and lower limbs, the impact on your feet from walking can also affect your knees and lower back.
Walking Shoes for Wider Feet
Most people believe that regular training shoes or sneakers are good enough to use as walking shoes. Unfortunately, this is not quite accurate because if you are going to be doing regular walking even for short distances, you will need an appropriate shoe with some added features.
As with any other walking shoe, the comfort and support features will remain the same the only difference is that you will now have to cater for a wider foot.
Best Characteristic of a Wide Width Walking Shoe
The two most important characteristics of a good walking shoe are stability and shock absorption.
A good walking shoe should have a broad and comfortable fit to accommodate your foot type and be well cushioned for comfort and shock absorption.
The sole of the shoe must be durable and offer good grip on different surfaces as well as stability to keep your body alignment in place.

A roll bar is also a necessary feature in a great walking shoe which helps to prevent overpronation and over supination especially when you are flaking long distances.

Breathability is another option to look at, as walking may cause perspiration which can also be quite uncomfortable.

Lastly, you will need to find a brand of shoe that has a wider fit, which should not be too difficult.

---
Reviews: Top Rated Wide-Width Walking Shoes
We have researched and designed a list with reviews on some of the most suitable walking shoes for women that have wider feet;
1
Walking Shoe for Wider Feet
The Skechers Go Walk is one of the most versatile and one of the highest rated walking shoes with over 7000 reviews up to date. This shoe is a perfect walking shoe for any foot condition, pronation, for lower back and knee pain and much more.
The Skechers Go Walk is Slip-on Shoe that has GOimpulse sensors giving you responsive feedback when you are walking, because of its flexible design and materials it is perfect for a wider fit.
The uppers are made from soft, flexible and breathable textile materials with decorative stitching details.

The outsole is flexible and comfortable offering good stability and traction.

A rear heel-pull for easy on and off.

A Goga Max high rebound footbed with a bamboo lining for bacteria and odor control.

Extremely lightweight and flexible.

Available in a variety colors.

---
2
Orthaheel Walking Shoe for Wide Feet
The Vionic Coral is a fantastic walking shoe for anyone with a foot condition, or who needs extra support, with its Orthaheel technology and a biomechanic orthotic footbed.
This shoe is available in a wider width for those who have wider feet or a foot condition.
Orthaheel technology for better support and comfort.

Lightweight durable synthetic mesh.

A podiatrist-designed orthotic footbed for a better and more supportive fit.

This shoe helps to realign your feet back into their natural position.

The lightweight EVA midsole reduces pressure on the feet, ankles, and knees by absorbing shock.

The durable rubber outsole has a patterned tread that offers good grip on any surface.

Available in many colors.

---
3
The New Balance 847V3 is a wider width walking shoe that offers some exceptional comfort and support qualities.
This shoe has added motion control technology and a Rollbar which helps with overpronation and over-supination.
The uppers are manufactured from durable and flexible Elastane and breathable cotton.

Motion control technology for added protection and stability.

Seamless internal lining and Ortholite foam collar, tongue, and heel.

Lightning Dry moisture-wicking lining.

A comfortable and supportive Orthalite foam insert.

Rollbar stability posting system to prevent overpronation and over supination.

A Ndurance rubber compound on all the high-wear areas on the outsole.

Rubber outsole for excellent grip.

Available in black, grey and white colors.

---
4
For the most supported and comfortable, confident walk you can invest in a Saucony ProGrid Integrity ST2 and Cohesion 12.
This shoe offers some excellent features for advanced shock absorption, support, and comfort and is available in a wider fit.
Full grain leather uppers with a ForeFoot stretch Zone for extra comfort to the forefoot.

The Saucony Cohesion 12 features Grid technology and VersaFoam cushioning.

Forefoot and Rearfoot HRC cushioning with a Strobel Board that assists in the later stages of the gait cycle by reducing the impact on the heels during the strike with responsive cushioning, in the ProGrid for Women.

A compression molded EVA midsole and Heel ProGrid with Respon-Tek technology for exceptional shock absorption in the Pro Grid for Women.

The XXTM 900 outsole with Walk Trac technology gives your solid grip and excellent traction.

A perfect walking shoe for those suffering from knee or lower back pain.

Available in three different color designs.

In addition, this is also the best shoe for individuals who need the extra width and support for walking all day.

---
5
Wide Walking Shoe for Knee Pain and Osteoarthritis
A desirable shoe from Dr.Comfort with classic craftsmanship and a sophisticated style.
This shoe has all the comfort features of an orthopedic shoe as well as being available in a wide and medium fit, making it the most comfortable walking shoe for wider feet.
Breathable leather and mesh uppers.

The X-Sole Relief Technology gives excellent comfort and relieves pain.

The Patented biomechanical features all work together naturally to reduce pressure and strain on the knees as well as relieving pain and slowing the progression of osteoarthritis.

This shoe was developed in association with rheumatology experts.

The Flexure Zones in the Outsole and the Flex-OA technology allows for normal foot motion when walking.

The X-Sole allows more natural movement and barefoot comfort.

Wider widths are available in this shoe.

---
6
The Reebok Reeshift and Walk Ultra is a wider width walking shoe created and tested to survive rigorous wear. A lightweight and breathable shoe with all the required comfort and support characteristics for excessive walking.
Leather uppers with a cool mesh lining for breathability.

A lightweight design for easy movement.

The DMX foam cushion insole is supportive and comfortable and can be removed for the use of your own orthotics.

Added Opti-Flex Zone for improved forefoot flexibility.

A durable outsole for excellent grip.

Cushioned collar for added comfort.

---
7
The Asics Gel Cumulus 20 is an excellent running and walking shoe that has a wider fit which is great for those who need more room for movement or who have a wider foot.
The uppers are made from breathable synthetic materials with a flexible and wider fit.

A slip-resistant and shock absorbing outsole.

Fluid Ride technology that reduces impact and absorbs shock.

Rearfoot and forefoot gel cushioning eliminate shock and allow for movement on multiple planes when your feet are transitioning through the gait cycle.

Vertical flex grooves for enhanced performance.

This shoe is rated as one of the Best Walking Shoes for Knee Pain.

---
8
Wide-Width Stability Walking Shoe
A wider width walking shoe that will give you a more roomy fit to accommodates any foot shape, size or condition.
Full grain leather uppers that are perforated for better ventilation.

The brushed Nylon lining ensures more comfort.

A faster and personalized fit with the speed lacing system.

A durable heel counter and padded tongue and collar.

The arch supporting Eva midsole and removable PU insole gives great support.

The rubber outsole is slip resistant and offers excellent grip on different surfaces.

A stable walking shoe that is also the Best Walking Shoes for Elderly Women.

---
9
The Propet 3851 is a lightweight and easy to clean walking shoe that has a wider width to accommodate wider feet and foot conditions.
The uppers are soft and flexible made from the finest quality leather.

The rubber outsole offers good grip and traction.

An Eva midsole for added comfort and support.

A removable insert that provides extra cushioning.

The external and internal heel counters provide stability and support.

A comfortable and breathable shoe.

Many colors available.

---
10
Slip-On Walking Shoe for a Wider Foot
The Skechers Performance Go Walk is one of the best walking shoes if you are looking for a wider and roomier fit.
A casual and stylish looking shoe that is breathable and comfortable enough for all-day wear.
Breathable mesh uppers with trendy looking overlays.

A gel padded heel for better shock absorption.

A Goga Max high rebound insole and 5Gen cushioning.

The EVA footbed ensures cushioned comfort and great support.

The New flex construction ensures a more comfortable and personalized fit.

A durable and flexible rubber outsole for excellent grip on many floor surfaces.

---
In Conclusion
As you can see these are all very feminine and highly functional women's walking shoes that have all the comfort characteristics of a supportive and shock absorbing walking shoe, along with a wider and more adjustable fit.
In the end, there are many shoe brands that offer wider widths walking shoes, so a wider foot being an issue is now a thing of the past!
Index Table: Best Wide-Width Walking Shoes
---
Please rate this article:
---
---