When you select a pair of shoes, particularly for walking or running there are two major factors that will influence your choice. The first is body mechanics, which is your degree of pronation, how much your foot rolls towards the middle of your body when you walk or run. Second is your body size which is the weight that your feet have to carry which in some cases can cause flat feet or fallen arches. Shoes are the most important piece of equipment for someone that walks or runs; they provide grip, stability, comfort, and flexibility. When your feet overpronate every time your foot hits the ground when walking or running for an extended period, you can suffer severe damage or even sustain an injury. Motion control and stability shoes both address this issue, they both aid in correcting pronation at different levels and degrees.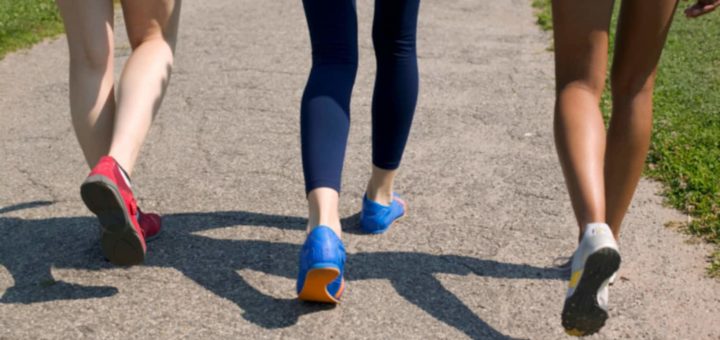 Comparison List for the Best Motion Control Walking Shoes
What is Motion Control in a Shoe
Shoes that are labeled "Motion Control" shoes in the shoe industry refers to the most corrective shoes in that range. Motion Control shoes are designed specifically to correct and reduce excess motion and overpronation. Overpronation is mostly suffered by people with flat feet or fallen arches. With runners and people who walk quite a bit overpronation, and flat feet can cause the knees and ankles to torque inwards which can create further problems.
What Characterises a Good Motion Control Shoe
Shoes designed for motion control have a much thicker midsole that is made off a hard material constructed and designed to correct your gait which prevents your stride from rolling inward when your weight is transferred from your heel to your forefoot. Furthermore, because of the thicker midsole a motion control shoe is also heavier and much more durable than your average running or walking shoe.
Another characteristic of a motion control running or walking shoe is the dense midsole material which usually consists of graphite, plastic or midsole foam.
Best Motion Control Walking Shoes Reviews
We have compiled a list of some of the best available walking and running shoes for women that have been labeled as motion control shoes;
1
The upper portion of this women's shoes is manufactured from synthetic leather and mesh material which improves breathability.

This shoe has two layers of memory foam that have been molded within the shoe in order for you to enjoy a perfectly personalized fit.

A dual-density DuoMax midsole provides excellent support and stability when you are walking.

The ASICS Gel Foundation cushioning feature has been specially incorporated, so that, it can absorb the shock from the rear as well as forefoot when you take a step.

A ComforDry sock liner to keep your feet dry and fresh.

A durable outsole for good grip on any surface.

---
2
A soft and light premium foam PowerGrid Midsole cushion.

The SAC crash pad provides many flawless transitions and a firmer heel support.

The upper portion of the shoe has been constructed with signature technology from lightweight and breathable materials.

It also has the additional arch-lock and support frame feature, which ensures that you get a superior fit. v

Ann 8mm offset, which places the heel and the rest of the foot at the same height and distributes the cushioning more evenly. Thus, your body remains in a more balanced and comfortable position.

A durable and tough rubber outsole.

---
3
The Composite Double Fan Wave Technology ensures proper support and stability.

The mid-sole has a wider base giving you more comfort when running or walking.

The upper part of the shoe is constructed from synthetic and mesh, which ensures high durability, breathability, and comfort.

A Vegan Shoe which is eco-friendly.

A rubber sole that is durable and comfortable.

The Smooth Ride Engineering will give your feet a smooth rocking-chair-like transition from heel to toe with each step you take.

A Dynamotion Fit helps the upper part of your foot to move smoothly, with the rest of the foot through the stride correcting any offset.

Available in four different colors.

---
4
A High Trail boot made with waterproof leather that features a bright pop up collar and visible heel cushion.

A rubber sole that ensures a good grip on wet and slippery surfaces.

This boot is covered in a waterproof membrane making sure that your feet stay dry in any weather conditions.

The Rollbar medial and lateral stability posts ensure the best motion control.

A compression molded EVA foam midsole for superb comfort and support.

The Thinsulate insulated lining ensures your feet are warm and comfortable in colder weather conditions.

Available in gray and brown colors.

---
5
The Brooks motion control walking shoe has been specially constructed for supporting the lower arches and keeping pronation under control.
A great Hydroflow feature in the rearfoot and forefoot, which provides a cushion to the foot and acts as a great shock absorber.

The special award winning MoGo midsole feature further improves the cushioning, it also helps to decrease the degree of shock felt while you are landing and taking off your feet when walking.

The signature PDRB triple-density feature which is incorporated on the medial side of the shoe gives it a higher level of stability.

For the better cushioning and flexibility, the company has used a durable, energy-efficient midsole compound.

A slip-resistant outsole helps to improve your balance in the wet weather.

Available in three different colors

---
6
The unique N2 low-to-the-ground cushioning system enhances support and shock absorbency.

The medial post is built with the new 'Stabilicore' technology to ensure maximum stability.

An Antimicrobial OrthoLite footbed that prevents foot odor and undesired bacteria.

A very lightweight but sturdy and long-lasting shoe.

A rubber outsole and forefoot flex grooves for better grip and traction.

---
7
The uppers of this shoe are breathable and waterproof and the shoe is also lined with a mesh lining and sock liner to further enhance breathability.

The biomechanical orthotic insole has been designed by a podiatrist and ha an added antimicrobial treatment.

This shoe will prevent and alleviate ankle pain, knee pain and is one of the Best Shoes for Lower Back Pain.

The rubber outsole is exceptionally flexible and durable as well as offering great traction.

This shoe offers superior arch support with the Orthaheel technology and contoured footbed.

---
With the above selection you cannot go wrong, these are the best available walking ad running shoes with motion control that you will find. In this list, there are some great brand names with exceptional reviews and high ratings.
---